Sell Your Audemars Piguet Watch to Us
Looking to sell your Audemars Piguet watch?
Audemars Piguet, a brand that epitomises elegance and precision, has been producing remarkable timepieces since its inception. Renowned for their intricate designs and impeccable craftsmanship, Audemars Piguet watches are a favorite among celebrities, athletes, and watch aficionados.
If the thought, "How can I sell my Audemars Piguet watch?" has crossed your mind, you're in good company.
Numerous Audemars Piguet owners grapple with this decision, often pondering over the intricacies of the selling process, the worth of their timepiece, and the reliability of potential buyers.
At SellMyWatches, we recognise and address these apprehensions. Our aim is to ensure a smooth and rewarding journey when you decide to sell your cherished Audemars Piguet watch.
"I owned an Audemars Piguet Royal Oak that I no longer wore. After some digging, I chose to part with it through SellMyWatches. The entire process was flawless. Their team demonstrated deep expertise and offered me a commendable price for my watch. The entire deal was transparent, and their prompt payment was commendable. I felt truly valued and would suggest SellMyWatches to anyone aiming to sell their high-end watch. They went above and beyond."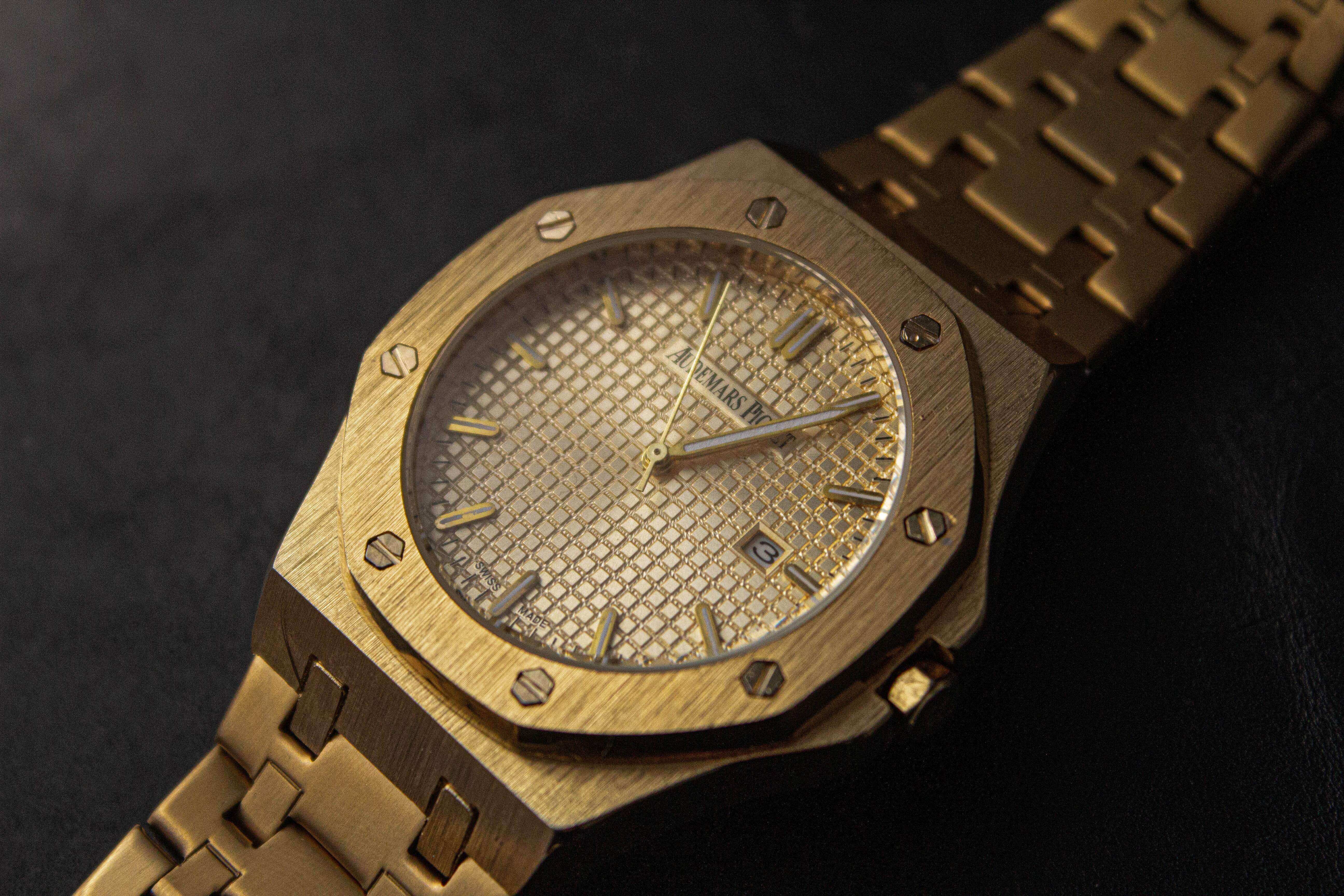 Why Sell Your Audemars Piguet Watch to Us
Selecting the perfect buyer for your Audemars Piguet is paramount. We boast of a service that mirrors the grandeur of the watches we purchase.
Our seasoned team possesses profound knowledge of luxury Swiss timepieces, guaranteeing that you get a just and precise estimate for your Audemars Piguet.
We promise a swift, streamlined, and transparent procedure, devoid of any concealed charges. Upon mutual agreement, we ensure immediate payment, making the sale of your watch effortless.
But our words aren't the only testament – our list of gratified clients vouch for our dedication to excellence and honesty.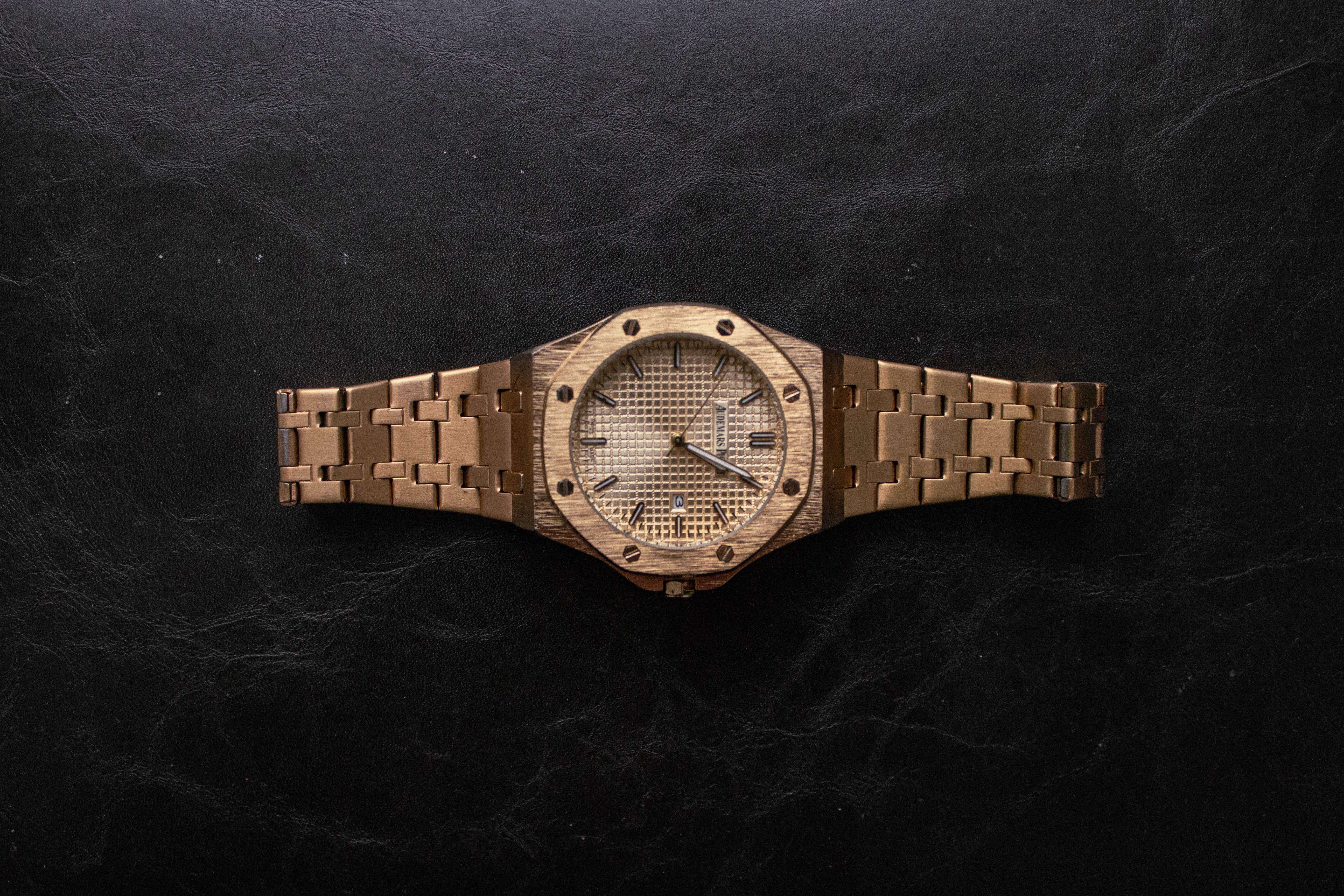 The Models of Audemars Piguet Watches We Acquire
We admire the artistry and distinctiveness of every Audemars Piguet variant.
From the legendary Royal Oak, celebrated for its pioneering design, the Royal Oak Offshore, a hit among sports enthusiasts, to the classic and refined Jules Audemars, we are keen on an extensive array of Audemars Piguet models.
We also have an interest in the Millenary, Code 11.59, and the Haute Joaillerie, among others.
If your model isn't mentioned above, please reach out – we're always eager to discover exceptional timepieces.
How to Sell Your Audemars Piguet Watch to Us
Selling your AP watch to us is a straightforward process:
Contact Us:
Reach out to us via phone, email, or our online form. Provide us with details about your watch, including the model, condition, and any accompanying accessories like the original box or papers.
Free Valuation
:
Our team of experts will assess your watch based on the information provided and current market trends. We will then offer you a no-obligation quote
Send or Bring in Your Watch:
If you're happy with the quote, you can send us your watch or bring it to our location. We handle every watch with utmost care and respect.
Final Assessment and Payment:
Upon receiving your watch, we will conduct a final assessment. If everything checks out, we will confirm the offer and process the payment immediately.
Tips for Maximising the Value of Your AP Watch
Regular maintenance can keep your watch in optimal working condition and enhance its value.
Original packaging and documentation can significantly increase the value of your watch.
While personal engravings might hold sentimental value, they can decrease the resale value of your watch.
Contact Us
Eager to part with your Audemars Piguet watch? Get in touch now for a complimentary, no-commitment quotation. Connect with us through email, or our online form. Our team awaits your call.
What Makes Audemars Piguet Watches So Special?
Audemars Piguet, often abbreviated as AP, is more than just a watch brand; it's a legacy. From the iconic Royal Oak to the intricate designs of the Jules Audemars, every Audemars Piguet model is a testament to unparalleled craftsmanship.
When you own such a luxury timepiece, it's essential to sell it to buyers who understand it's worth. With us, you're not just selling a watch; you're passing on a piece of horological artistry.
How Do We Ensure the Best Price for Your Audemars Piguet?
Our team of watch specialists has years of experience in the watch industry. We provide a free watch valuation, ensuring that you get the highest price for your Audemars Piguet, be it a vintage piece or a recent model.
We constantly update our pricing models based on current market trends, ensuring you receive a fair and competitive offer when it comes to the value of your Audemars Piguet.
Want to Sell Your Watch Without Original Papers?
While having the original box and papers can enhance the value of your watch, we understand that not everyone retains them.
Even if you're looking to sell a watch without its original documentation, we're here to help. Our experts can authenticate and value watches based on their condition, rarity, and demand in the market.
Your Title Goes HereWhere's the Best Place to Sell Your Audemars Piguet?
With numerous watch buyers in the market, finding the best place to sell can be daunting. Our transparent process, combined with our dedication to giving you the best valuation, makes us a top choice for many.
Our reputation in the industry, combined with positive customer testimonials, speaks volumes about our commitment.
Why is Sell to Us Better Than an Online Auction?
While online auctions might seem tempting, they often come with hidden fees and uncertainties. When you sell to us, you're guaranteed a fast sale, immediate payment via bank transfer, and a hassle-free experience. Plus, with us, you get a dedicated team guiding you through every step, ensuring clarity and trust.
How Do We Determine the Value of Your Watch?
Our valuation process is thorough. From the condition of your watch, to its model and market demand, various factors play a role.
We ensure you get the best possible price for your luxury timepiece. Our team stays updated with the latest market trends, ensuring that every valuation is in line with current market values.
What if You Want to Sell a Second-Hand Audemars Piguet?
Pre-owned watches have their own charm and history. We buy second-hand Audemars Piguet watches, understanding their value and offering competitive prices. Each pre-owned watch tells a story, and we ensure that story is valued appropriately.
How Quick is the Selling Process?
We value your time. Once we receive your watch and it passes our assessment, the payment is processed immediately. Our streamlined system is designed with efficiency in mind, ensuring that you don't have to wait long to receive your payment.
Is It Safe to Send Us and sell Audemars Piguet?
Absolutely. Every watch in our hands is treated with utmost care and respect. From the moment you reach out to us to the time you receive your payment, your watch's safety is our priority.
We use secure methods for transportation and assessment, ensuring your timepiece is always in safe hands.
Looking to Sell Other Luxury Watch Brands?
While Audemars Piguet is a specialty of ours, we also deal with other luxury watch brands like Rolex and Patek Philippe.
Our expertise spans across various luxury watch brands, ensuring that no matter what you're looking to sell, we're here to buy and offer the best value.
Conclusion:
Selling a luxury watch, especially a brand as esteemed as Audemars Piguet, requires trust, expertise, and an understanding of the watch's true value. We pride ourselves on offering all three. Whether you have a Royal Oak Offshore or a vintage Audemars Piguet timepiece, we're here to provide you with the best service and price. Remember, when it comes to luxury watches, especially Audemars Piguet, the AP watch, it's not just about making a sale; it's about honouring a legacy. Choose wisely, and let us help you as we specialise in helping customers buy and sell their watches.
Contact Us
Eager to part with your Audemars Piguet watch? Get in touch now for a complimentary, no-commitment quotation. Connect with us through our online form for your free valuation.