Selling a watch, especially a valuable one, can be a complex process. At "Sell My Watches" we understand that you might have high expectations for the price you'll receive. However, it's essential to recognise why dealers, including us, might offer less than what you'll see on marketplaces like eBay and Chrono24.
Here's why, followed by an example at the end of the post:
1. eBay and Other Market Fees
When a watch is sold on platforms like eBay, around 13% to 15% of the sale price goes to fees. This significant cut affects the overall profit for the dealer.
2. Shipping Costs
Shipping a valuable watch securely and safely isn't cheap. These costs must be factored into the offer you receive + Insurance costs.
3. Authenticity Checks and Potential Fixes
Before a watch can be resold, it must be thoroughly inspected for authenticity and may need cleaning or repairs. These processes take time and money.
4. VAT, Staff, and Bills
Dealers must also cover various business expenses, including VAT, staff salaries, and utility bills. These costs are part of the reason for the offer you receive.
5. Profit Margin
Finally, dealers must make a profit to stay in business. This means that the offer you receive will likely be between 30% to 50% less than what you see similar watches selling for on the secondary market.
For Example:
You're looking to sell your Breitling SuperOcean 42 | A17364 for £1,750 to £2,200 as that's the range you see on Ebay or Chrono24.
A watch dealer will be looking at the competition that's selling the watch at the lower end of £1,750. So the dealer will look to sell at £1,700 for example.
So out of that, he will look at deducting:
Ebay 15%-ish = £1,445
Insured shipping £50ish = £1,395
Now we are at £1,395, The dealer will more than likely offer you £1,000 for the watch. So there is is £395 profit? Not quite!
Profit £395:
Tax 20 to 40% = £316 to £237 profit
Watch Register Search = £33
Watch repairs / service if needed = £100+
Profit will equal around £183 / £105
The Dealer will be left With a very small profit + there may be additional costs on top of that.
Remember that a watch dealer isn't out to get you, despite the bad rep we get. We're just trying to make a living like everybody else.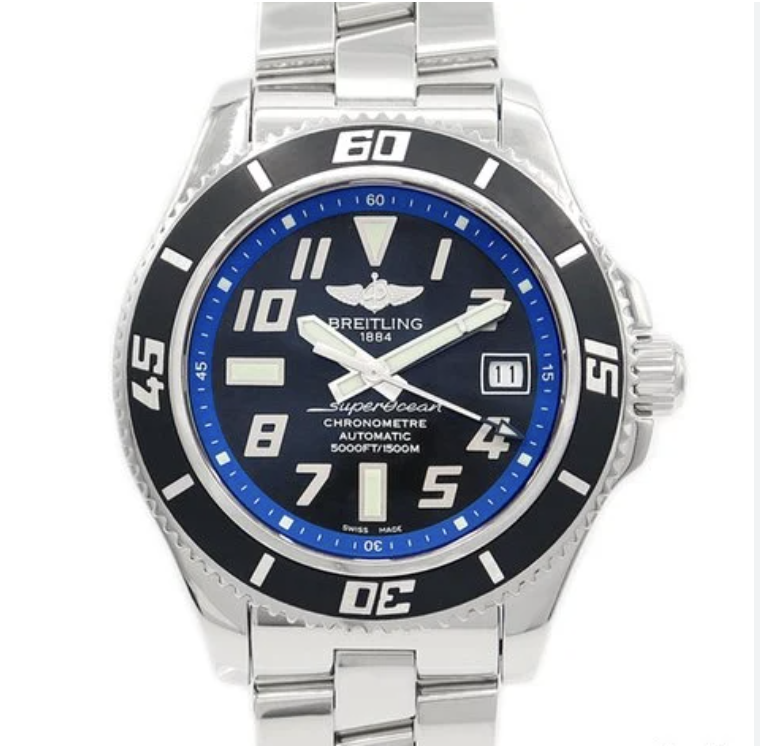 Why Choose "Sell My Watches"?
 While the above factors might seem daunting, selling your watch with us has significant advantages:
Reputable Dealers: We work only with reputable watch dealers, ensuring a fair and transparent process.
Quick Payment: Receive cash in your bank on the same day a dealer receives the watch and completes their checks.
Avoid Hassles: Save yourself the time and stress of trying to sell the watch yourself, which can take days, weeks, or even months.
At "Sell My Watch," we value honesty and transparency. We're here to help you understand the process and make it as smooth and profitable as possible for you. If you have any questions or are ready to sell your watch, contact us today.